QAI's online webinars provide an intermediary solution to your training needs by allowing users to attend a live, instructor–led course from the convenience of their homes or offices.
The platform allows the instructor to answer or clarify any concerns students may have while reviewing the course material. These webinars offer the versatility for students to be as involved, or as less involved and more observant, as they choose to be without the pressures of an actual classroom setting. While using the platform, users will be able to see their instructor's face during the sessions, which adds a more personal factor to the training interaction.
Registration to the webinars grants access to review materials and recorded webinar sessions created during the 12 week period, so if users are unable to attend any of the classes, the recorded session will be available to them at their convenience to review.
Embracing Agile: How It Can Help Your Team To Deliver Value Faster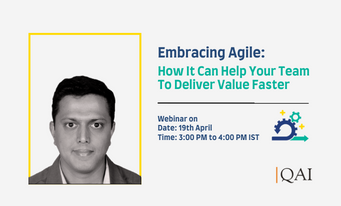 Explore the applicability and usage of Agile to deliver value faster across the organization. Gain knowledge about the agile principles and methods and develop an agile mindset.
Value Delivery & Earned Value Metrics
During this webinar, our expert Nishant Kamesh focuses on two key elements: Project Budgeting and Project Cost Management. Coverage of topics includes the history of earned value, use cases of earned value, application in an agile context, and possible question patterns in the PMP exam.