ITIL is used by millions of professionals globally. Businesses are built on ITIL®. Every year, organizations invest heavily in adopting and adapting ITIL® into their business practices and upskilling their workforce with ITIL® qualifications.
Extensive research by AXELOS, involving a diverse group of stakeholders, has consistently shown that ITIL® is fundamental to businesses, enables transformation and helps organizations realize value.
ITIL® 4 has been designed to help organisations meet the increasing demand from the current complex digital environment.
The new scheme is aligned with ITIL® v3 and has been streamlined to encourage conversion beyond ITIL® foundation level.
The benefits of a candidate moving to ITIL® 4 are:
Demonstrate that a candidate has the knowledge to navigate the modern digital landscape
Shows that a candidate's certification/skills are up-to-date.
Axelos has created recommended routes that allows candidates to transition while still gaining the skills and knowledge needed to understand the core concepts of ITIL® 4.
With this new era of ITIL® , comes the ITIL® 4 Service Value System
 ITIL® 4 Service Value System
ITIL® 4 Service Value System has been announced with a much defined protocol suited for today's Service Management System.
The ITIL® SVS describes the inputs to this system (opportunity and demand), the elements of this system (organizational governance, service management, continual improvement, and the organization's capabilities and resources), and the outputs (achievement of organizational objectives and value for the organization, its customers, and other stakeholders).
ITIL® 4 Specialist Create, Deliver and Support is aimed at ITSM professionals dealing with the operation of IT-enabled & digital products and services, and those responsible for the end-to-end delivery. Create Deliver and Support covers the integration of a number of proven areas of what we might know as 'IT' areas of work – from design, to build and test, launch, run and support of products and services. These areas are all central elements in the development and operations of technology systems and services that may be familiar. However, often these areas have not been built, run and integrated as seamlessly as needed to fully deliver optimum value.

Overview of ITIL® ® 4 Certification Scheme: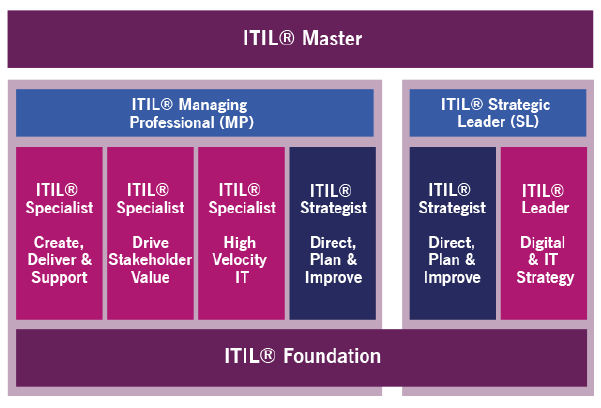 ITIL® Specialist – Create, Deliver & Support (CDS) is one of five courses needed to achieve ITIL 4's Managing Professional (MP) designation.
This 3-day course covers the core service management activities and expands beyond the current scope of ITIL v3 to cover the 'creation' of services.
The course agenda covers the following ITIL 4 practices to help you understand the major factors that contribute to the successful creation, delivery, and support across ITIL's new service value system (SVS) business model:
Service design price and orchestration.
Software development and management.
Deployment management.
Release management.
Service validation and testing.
Change enablement.
Ensuring stakeholder satisfaction.
Service Desk.
Incident management – detection and resolution.
Problem management.
Knowledge management.
Service level management.
Monitoring and event management.
Prerequisites:
To be eligible to take this ITIL Specialist training, applicants should have:
Passed the ITIL 4 Foundation examination.
Attended an accredited training course for this module.
The target audience for this qualification is:
Service Desk Directors/Managers.
IT Infrastructure & Support Directors/Managers.
Problem, Change, and Release Managers.
DevOps Directors/Managers.
Continual Improvement Program/Project Directors/Managers.
Individuals working in other parts of "IT" (digital, product, development) with strong interface with service delivery.
Existing ITIL® qualification holders wishing to update their knowledge.
Exam:
The exam is closed book with 40 multiple choice questions. The pass score is 65% (26 out of 40 questions). The exam duration is 60 minutes. The exam can be taken in two formats: paper-based or online.
Exam Format – Objective Type, Multiple Choice.
Exam Duration – 90 minutes.
No. of Questions – 40 (multiple-choice questions).
Passing Criteria – 70% (a score of 28 marks or above).
Closed book: Yes.
DAY 1

1. Service Management Introduction
2. Latest Industry Trends
3. Importance of Service Management
4. Transformation of ITIL Service Lifecycle (ITIL V3) to Service Value System (ITIL 4)
5. IT Service Management Key terms (aligned with ITIL 4)
6. Understand how to plan and build a service value stream to create, deliver and support services

6.1 Understand the concepts and challenges relating to the following across the service value system:

6.1.1 Organizational structure
6.1.2 Integrated/collaborative teams
6.1.3 Team capabilities, roles and competencies
6.1.4 Team culture and differences
6.1.5 Working to a customer-orientated mindset
6.1.6 Employee satisfaction management
6.1.7 The value of positive communications

6.2 Understand how to use a 'shift-left' approach

6.3 Know how to plan and manage resources in the service value system, including:

6.3.1 Team collaboration and integration
6.3.2 Workforce planning
6.3.3 c) Results based measuring and reporting
6.3.4 d) The culture of continual improvement

6.4 Understand the use and value of information and technology across the service value system,
including:

6.4.1 Integrated service management toolsets
6.4.2 Integration and data sharing
6.4.3 Reporting and advanced analytics
6.4.4 Collaboration and workflow
6.4.5 Robotic process automation (RPA)
6.4.6 Artificial intelligence and machine learning
6.4.7 Continuous integration and delivery/deployment (CI/CD)
6.4.8 Information models

Day 1: Practice Questions & Answers

DAY 2

7. Know how relevant ITIL practices contribute to creation, delivery and support across the SVS and
value streams:

7.1 Know how to use a value stream to design, develop and transition new services

7.2 Know how the following ITIL practices contribute to a value stream for a new service and the
following references from the practice guidance):

7.2.1 Service design
7.2.2 Software development and management
7.2.3 Deployment management
7.2.4 Release management
7.2.5 Service validation and testing
7.2.6 Change enablement

7.3 Know how to use a value stream to provide user support

7.4 Know how the following ITIL practices contribute to a value stream for user support and the
following references from the practice guidance):

7.4.1 Service desk
7.4.2 Incident management
7.4.3 Problem management
7.4.4 Knowledge management
7.4.5 Service level management
7.4.6 Monitoring and event management

Day 2: Practice Questions & Answers

DAY 3

8. Know how to create, deliver and support services
8.1 Know how to co-ordinate, prioritize and structure work and activities to create, deliver and support
services, including:
8.1.1 Managing work as tickets
8.1.2 Prioritizing work

8.2 Understand the use and value of the following across the service value system:

8.2.1 Buy vs build considerations
8.2.2 Sourcing options
8.2.3 Service integration and management

Day 3: Full Length Mock Question Set

ITIL® 4 is registered trade mark of AXELOS® Limited, used under permission of AXELOS® Limited. All rights reserved.
The Swirl logo™ is a trade mark of AXELOS® Limited, used under permission of AXELOS® Limited. All rights reserved.
Copyright © AXELOS Limited 2018. Used under permission of AXELOS Limited. All rights reserved