Workshop Context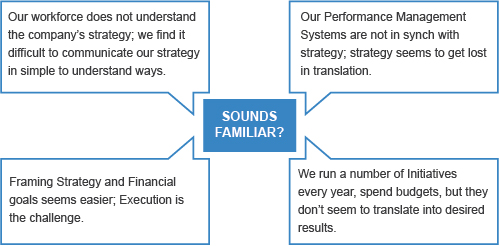 This is where the Balanced Scorecard (BSC) comes in.
The BSC provides a framework to design and implement strategy within organizations. It provides a structure for setting targets for strategy related parameters and tracking them.
Startegy Maps is a tool to visually depict and understand the inter-linkages (cause-effect) between various elements of the strategy. It is also a great tool for communicating the organization's strategy to the workforce and increase the alignment across all levels of the organization.
BSC was outlined by Kaplan and Norton in the Harvard Business Review in 1992. BSC has been one of the most enduring management tool of the last twenty years. Surveys show that over 60% of Fortune 500 companies have implemented the BSC and that it is the most widely adopted performance management tool used by companies.
BSC focuses the attention on the importance of non-financial measures – and causes companies to take a 360 degree perspective of the business. Companies that have been struggling with growth, have often used the BSC to re-align organizational resources towards the long-term company vision.
Duration and Mode
Two Days, Full-time, Instructor Led Workshop.
The workshop is driven by case-studies and exercises for participants to get hands-on understanding of the concepts covered.
A quiz will be conducted at the end of the workshop.
All participants who attend all the sessions will receive a participation certificate.
Workshop Objectives and Benefits
Participants will understand the key concepts of the strategy maps and balanced scorecard, and learn the methodology for creating a strategy focused, aligned organization. The keys benefits of the workshop are that it will help the participants to:
Align resources, behaviors & actions to the organization's strategy
Run transformational initiatives
Manage and track the implementation of strategy
Communicate the organization's strategy better, and involve all employees in the implementation of strategy
Become a more responsive organization
Faculty for the Workshop
This instructor led course will be conducted by senior consultants of QAI with vast consulting experience in organizational transformation for a diverse set of industries. They are popular speakers at conferences and have conducted many training programs on multiple topics related to people management, organizational alignment, program management and data analytics.
This course is recommended for executives, managers, planners and analysts who are part of a balanced scorecard development team, and are seeking the best practical ideas for improving organizational performance. This includes:
Senior Executives responsible for implementing strategy
Managers driving organizational initiatives
HR Managers responsible for aligning employees with the strategy
Process and metrics specialists providing information and dashboards to executive management
Operational management balancing operational goals with strategic objectives
The following are the topics that will be covered in the workshop:
Introduction to Strategy Maps and Balanced Scorecard
Defining the Organizational Strategic Direction
Weaving the Strategy Story using Strategy Maps
The Balanced Scorecard Methodology
Defining Key Strategic Themes
Building the Four Perspectives
Target Setting at the Enterprise Level
The Cascading of strategy: Creating Functional Scorecards from Strategy
Creating Strategic Initiatives for Organizational Transformation
Monitoring the Strategy Implementation
Critical Success Factors for effective BSC implementation