Related Courses
Trainers
Calendar
Webinars
Gladwell Academy Presents: SAFe 6.0 Release Train Engineer with RTE Certification
Facilitating value delivery with Agile Release Trains with SAFe 4 Release Train Engineer Certification
Why go for Course
In this advanced three-day workshop, you will gain an in-depth understanding of the role and responsibilities of a Release Train Engineer (RTE) in the SAFe enterprise.
Through experiential learning, you will learn how to facilitate and enable end-to-end value delivery through Agile Release Trains (ARTs) and value streams.
You will also learn how to build a high-performing ART by becoming a servant leader and coach, and how to plan and execute a Program Increment (PI) planning event, the primarily enabler of alignment throughout all levels of a SAFe organization.
Scaled Agile's SAFe Release Train Engineer exam maintains rigorous quality standards ensuring that those who have earned the certification are well prepared to effectively fulfil their role in a SAFe enterprise. Make sure to read the Certification Information below.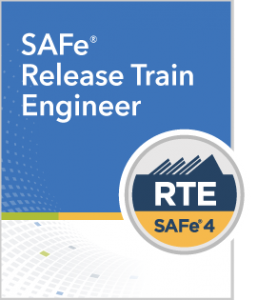 What will you learn?
To perform the role of the RTE, you should be able to:
Apply Lean-Agile knowledge and tools to execute and release value
Assist with program and value stream execution
Foster relentless improvement
Build a high-performing ART by becoming a servant leader and coach
Develop an action plan to continue your learning journey
Professional Development Units (PDUs) and Scrum Education Units (SEUs)
Attendees may be eligible to apply for 21 PDUs toward their continuing education requirement with the Project Management Institute (PMI) for PMP and PMI-ACP certifications.
Attendees may be eligible to apply for SEUs under category C, toward earning or renewing their CSP through Scrum Alliance.
Annual Renewal
Membership renewals are one year from the date certification is earned
Renewal fee: $295. Renewal fee for the RTE certification is included in SPC renewal (if current SPC).
The following individuals will benefit from this course:

RTEs and Value Stream Engineers (VSEs)
Program and project managers
Scrum Masters
Leaders and managers
Agile coaches
SAFe Program Consultants (SPCs)
Prerequisites
To fully benefit from this class, you should have at least one current SAFe Certification, and, launched or participated in at least one ART and one PI.
SAFe® Certification Information
A SAFe 6.0 Certified Release Train Engineer (RTE) is a SAFe program servant leader and coaching professional responsible for driving end-to-end delivery of value in a single program or value stream in a Lean-Agile enterprise.
Key areas of competency include:

Facilitating program-level ceremonies
Leading program execution
Coaching ARTs and teams in relentless improvement of value delivery
Creating transparency using metrics to initiate and drive positive change
Facilitating resolution of dependencies, impediments, and risks
This individual will be expected to perform these tasks with limited assistance from peers, product documentation, and support resources.
What You Get
The class registration includes:
Attendee workbook (physical version only)
Eligibility to take the SAFe 6.0 Release Train Engineer exam
Course certificate of completion upon request
Attendees must attend all three days in order to qualify for the exam.
Topics Covered
 Exploring the RTE role and responsibilities
Applying SAFe Principles
Understanding the ART
Planning a Program Increment
Executing a Program Increment
Fostering Relentless Improvement
Serving the ART
Continuing your Learning Journey
Exam Prerequisite Skills or Knowledge
These skills and knowledge are highly recommended in order to be successful in passing the RTE exam:
SAFe certification
Cross-team communication skills
Full use of SAFe principles in action
Coaching Agile and SAFe facilitation and leading by example
Launch or participate in at least one ART and one PI
Working knowledge of team dynamics
Ability to manage stakeholders
Minimum 3 months real-world, hands-on experience as an RTE
Exam Details
Exam name: SAFe Release Train Engineer Exam
Exam format: multiple choice
Exam delivery: web-based (single-browser); closed book; no outside assistance; timed exam;
delivered through the Community Platform
Exam access: first attempt free within 30 days from course completion date
Exam duration: once the exam begins candidates have 120 minutes to complete the exam
Number of questions: 60
Passing score: 40 out of 60 (67%)
Exam cost: first attempt is free within 30 days from course completion
Retake policy: second attempt on exam (first retake) can be done immediately after first attempt.
Third attempt requires a 10 day wait; fourth attempt requires a 30 day wait. Each retake attempt is $150. Contact support@scaledagile.com for any retake questions.
What you get
SAFe Certified Release Train Engineer certificate (PDF)
One year membership to the Scaled Agile RTE Community of Practice
Exam Preparation
Study guide: access available upon course completion; in the Learning Platform
Practice test: access available upon course completion; in the Learning Platform
Sample test: download questions
Gladwell Academy Presents Release Train Engineer (RTE) Certification, Gladwell Academy is a SPCT Gold Partner with Scaled Agile Inc.



Presented By: Anand MR
Hosted By: QAI India Ltd.
Our Most Popular Courses:
"Stipulated pricing by Scaled Agile is USD 2495 for Early Bird & USD 2995 for Regular. INR pricing fluctuates depending on the exchange rate"