ITIL is used by millions of professionals globally. Businesses are built on ITIL®. Every year, organizations invest heavily in adopting and adapting ITIL® into their business practices and upskilling their workforce with ITIL® qualifications.
Extensive research by AXELOS, involving a diverse group of stakeholders, has consistently shown that ITIL® is fundamental to businesses, enables transformation and helps organizations realize value.
ITIL® 4 has been designed to help organisations meet the increasing demand from the current complex digital environment.
The new scheme is aligned with ITIL® v3 and has been streamlined to encourage conversion beyond ITIL® foundation level.
The benefits of a candidate moving to ITIL® 4 are:
Demonstrate that a candidate has the knowledge to navigate the modern digital landscape
Shows that a candidate's certification/skills are up-to-date.
Axelos has created recommended routes that allows candidates to transition while still gaining the skills and knowledge needed to understand the core concepts of ITIL® 4.
With this new era of ITIL® , comes the ITIL® 4 Service Value System
 ITIL® 4 Service Value System
ITIL® 4 Service Value System has been announced with a much defined protocol suited for today's Service Management System.
The ITIL® SVS describes the inputs to this system (opportunity and demand), the elements of this system (organizational governance, service management, continual improvement, and the organization's capabilities and resources), and the outputs (achievement of organizational objectives and value for the organization, its customers, and other stakeholders).
We understand ITIL® 2011 focused largely on the process and procedures of the entire Service Management System. Instead ITIL® 4 enhanced the spectrum by including the guiding principles which governs the policies and makes it aligned with todays need of Agile and Devops.
ITIL® 4 as a framework has come across some major changes which makes it much more dynamic to work with Agile and Devops. Some of the interesting alignments have been shown below.
| | |
| --- | --- |
| AGILE MANIFESTO | ITIL® GUIDING PRINCIPLES |
| Individuals and interactions over processes and tools | Keep it simple and practical Start where you are |
| Working software over comprehensive documentation | Focus on value Think and work holistically |
| Customer collaboration over contract negotiation | Focus on value Collaborate and promote visibility |
| Responding to change over following a plan | Progress iteratively with feedback Keep it simple and practical |
ITIL® 4 Value Proposition
We are in a time of unprecedented change, known as the 'Fourth Industrial Revolution'. It is characterized by the digital transformation of our world and the unavoidable interaction between humans, digital technologies and physical assets. It is an increasingly fast-paced and complex environment, requiring organizations to be more agile, better equipped to adapt what they do, and ready to adopt new ways of working to succeed. ITIL® 4, through its framework, helps organizations to connect and align these different challenges that are relevant not only to ITSM professionals, but also by a wider range of professionals working in the digital world.
ITIL® 4 expands on previous versions by providing a practical and flexible basis to support organizations on their journey to the new world of digital transformation. It provides an end-to-end IT/digital operating model for the delivery and operation of tech-enabled products and services and enables IT teams to continue to play a crucial role in wider business strategy.
ITIL® 4 supports the existing investment that people and organizations have made in ITIL® , as it is an expansion on the existing framework. That investment is protected because ITIL® 4 provides a practical and flexible transition that helps organizations adopt the new ways of working brought by the modern digital world.
Overview of ITIL® ® 4 Certification Scheme: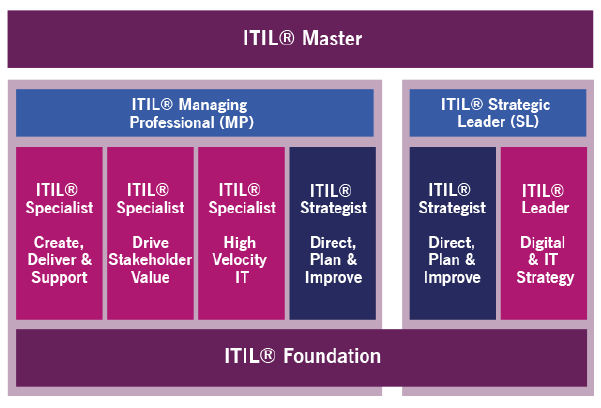 Options for transition from ITIL® V3 to ITIL® 4
ITIL® V3 Foundation: If a candidate has taken only ITIL® V3 Foundation, then the recommended approach is to take ITIL® 4 Foundation in order to able to transition to the new scheme.
ITIL® V3 Intermediate: End-learners holding a low number of credits beyond Foundation have two recommended options to transition to ITIL® 4 dependent on what they want to achieve in the scheme.
Option 1: They are encouraged to take ITIL® 4 Foundation and a further module in their preferred area of interest, becoming an ITIL® Specialist, Strategist or Leader.
Option 2: They are encouraged to achieve 17 credits from ITIL® V3 to become eligible to take the ITIL® Managing Professional transition module.
ITIL® V3 Expert: If an end-learner has achieved ITIL® V3 Expert, they can take ITIL® Managing Professional transition module to achieve the ITIL® Managing Professional designation.
After achieving the ITIL® Managing Professional designation, if the end-learner is interested in pursuing the ITIL® Strategic Leader stream, they would only need to complete the ITIL® Leader Digital & Strategy module.
Once they have completed both streams they are eligible to move towards ITIL® Master.
"Every LVC training will have a live Q&A (doubt clearing session) at the end of the training on a subsequent date. The date will be typically two weeks upon completion and every participant will receive further guidance and coaching as desired."

ITIL® 4 Foundation Certification Training
ITIL® has led the ITSM industry with guidance, training and certification programmes for more than 30 years. ITIL® 4 brings ITIL® up to date re-shaping much of the established ITSM practices in the wider context of customer experience, value streams, and digital transformation, as well as embracing new ways to working, such as Lean, Agile, and DevOps.
ITIL® 4 provides the guidance organizations need to address new service management challenges and utilize the potential of modern technology. It is designed to ensure a flexible, coordinated and integrate system for the effective governance and management of IT-enabled services.
The purpose of the ITIL® 4 Foundation qualification is:
To introduce professionals to the management of modern IT-enabled services, to provide them with an understanding of the common language and key concepts, and to show them how they can improve their work and the work of their organization with ITIL® 4 guidance. Furthermore, the qualification will provide the candidate with an understanding of the ITIL® 4 service management framework and how it has evolved to adopt modern technologies and ways of working.
Course Description
ITIL® 4 Foundation is the first publication of ITIL® 4, the latest evolution of the most widely adopted guidance for ITSM. Its guidance ranges from IT and business students taking their first steps in service management to seasoned professionals familiar with earlier versions of ITIL® and other sources of industry best practice.
The Purpose of ITIL® 4 is to provide organizations with comprehensive guidance for the management of IT-enabled service in the digital economy.
It is designed to ensure that an effective, efficient, flexible, co-ordinated and integrated system for governance and management of IT Services is established and continually improving in the organization.
The course is designed as an introduction to ITIL® 4 and enables you to understand the new ways to look at IT Service Management through a Service Value System (SVS).
ITIL® 4 takes you through a more evolved view of a SVS, which provides a holistic end-to end picture of what it really means to contribute to business value, and also integrates concepts from models such as Lean, Agile and DevOps.
Learning outcomes:
At the end of this course, attendees will understand the following:
The four dimensions of service management
The ITIL® Service Value System
The seven guiding principles
The Service Value Chain
The 34 ITIL® practices, with a focus on 18 these
Key concepts from Lean, Agile, DevOps and Organizational Change Management and why these are important to deliver business value
Prerequisites:
There are no prerequisites for this course, although a basic knowledge of Service Management concepts will be helpful.
The purpose of the ITIL® Foundation examination is:
To assess whether the candidate can demonstrate sufficient recall and understanding of the ITIL® 4 service management framework, as described in the syllabus below, to be awarded the ITIL® 4 Foundation qualification. The ITIL® 4 Foundation qualification is a prerequisite for the ITIL® 4 higher level qualifications, which assess the ability to apply concepts understanding of the relevant parts of the ITIL® framework in context.
The target audience for this qualification is:
 Individuals at the start of their journey in Service Management
ITSM Managers and aspiring ITSM Managers
Individuals working in other parts of "IT" (digital, product, development) with strong interface with service delivery
Existing ITIL® qualification holders wishing to update their knowledge.
Exam:
The exam is closed book with 40 multiple choice questions. The pass score is 65% (26 out of 40 questions). The exam duration is 60 minutes. The exam can be taken in two formats: paper-based or online.
INTRODUCTION
IT Service Management in the modern world
About ITIL® 4
KEY CONCEPTS OF SERVICE MANAGEMENT
Value
Value co-creation
Service providers
Service consumers
Other stakeholders
Products
Services
Configuring resources for value creation
Service offerings
Service relationship
Utility and Warranty
THE FOUR DIMENSIONS OF SERVICE MANAGEMENT
Organizations and people
Information and technology
Partners and suppliers
Value streams and processes
External Factors
THE SERVICE VALUE SYSTEM
Service value system an overview
Opportunity, demand and value
THE ITIL® GUIDING PRINCIPLES
Focus on Value
Start where you are
Progress iteratively with feedback
Collaborate and promote visibility
Think and work holistically
Keep it simple and practical
Optimize and automate
GOVERNANCE
Governing bodies and governance
Governance in SVS
SERVICE VALUE CHAIN
Plan
Improve
Engage
Design and transition
Obtain/build
Deliver and support
CONTINUAL IMPROVEMENT
Steps of the continual improvement model
Continual improvement and the guiding principles
ITIL® MANAGEMENT PRACTICES
Continual Improvement
Information security management
Relationship management
Supplier management
Availability management
Capacity and performance management
Change control
Incident management
IT asset management
Service configurations management
Monitoring and event management
Release management
Deploy management
Service continuity management
Service desk
Service level management
Service request management
EXAMS
RECAP
EXAMS

Exam Format:

Multiple choice
40 questions
Online or paper based exams available through Peoplecert
Maximum 60 minutes duration
Closed book
ITIL® 4 is registered trade mark of AXELOS® Limited, used under permission of AXELOS® Limited. All rights reserved.
The Swirl logo™ is a trade mark of AXELOS® Limited, used under permission of AXELOS® Limited. All rights reserved.
Copyright © AXELOS Limited 2018. Used under permission of AXELOS Limited. All rights reserved