As per assessment, majority of the projects are known to be delayed, or having cost overruns or have failed. Hence, Project Management, as an independent discipline, has been gaining increasing recognition as a critical differentiator for better business performance. Specialized knowledge and skills are needed for effective project management. To assist organizations in making the right investment in their PM staff, QAI Global Institute has developed a role-based competency framework for project management professionals, namely UCFPm-The Universal Competency Framework for Project Management.
UCFPm is developed to support organizations by providing a reference framework to objectively evaluate the competencies of project management professionals.
Aligned to all the major project management bodies of knowledge like PMBoK®, PRINCE2®, CMMI® and with more than 3000 questions UCFPm can support organizations of all sizes in establishing a standard competency dictionary.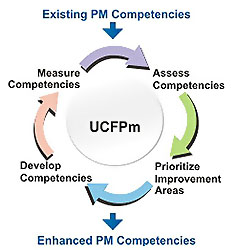 Why PM Competency Assessment?
Project Management is a vast area wherein projects of diverse nature, size and complexities are performed. The PM skills and capabilities needed for each project could be different and it becomes a major challenge to assess the competencies of the staff to select the right project managers and/or to identify the skill gaps for defining a learning path.
The traditional ways of assessing the competencies have been many and have their own limitations and may not give a true assessment of the capabilities. This generates the need for an effective skill assessment mechanism that can be used to fulfill these requirements.
Target Audience
Project Management Professionals
Aspiring Project Management Professionals
Organizations aspiring to assess competencies for their Project Management staff
Any associated industry professional groups involved in Project Management.
Why QAI?
QAI's PM Competency Assessment Service is designed with an objective to assist organizations in making the right decisions on their Project Management workforce. It is based on the widely accepted global standards and best practices and helps organizations by providing an objective role-based competency assessment.
Benefits of UCFPm
UCFPm is based on unique framework which includes:
Customizable competency framework for every role in project management profession
Assessment of project management professionals against best project management standards from the industry using online tool and personalized interviews by subject matter experts
Comprehensive reporting of strengths and weaknesses by project management competencies
Creation of learning path for developing competencies
Specialized training services to help scale up the competencies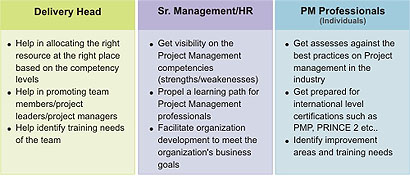 QAI's PM Competency Assessment Services
QAI's PM competency assessment & development services based on a unique framework UCFPm this includes the following:
Customizable competency framework for every role in Project Management profession Assessment of project management professionals against best of project management standards from the industry using online tool and personalized interviews by subject matter experts
Comprehensive reporting of strengths and weaknesses by project management competencies
Creation of learning path to develop competencies
Specialized training services to help scale up the competencies
Key Highlights
30 Knowledge Areas
3000+ Question Repository
Aligned to PMI's PM Competency Development Framework
Adaptive Exam Methodology
Instant and Elaborate Assessment Report
Post Assessment Learning Plan Creation
Scalable for Large Sized Groups
Administered On-line
Dedicated Support Team
Instant Assessment Results
Based on Most Widely Followed PM Best Practices, Handpicked from Global Standards (PMBoK® Guide, Prince2®, CMMI®)
4 Levels of Cognition
Objective Assessment against Defined Competencies
For details visit PMdioxide